Jacoby Online User's Manual
Start Using Jacoby Online
The landing page is where the journey starts: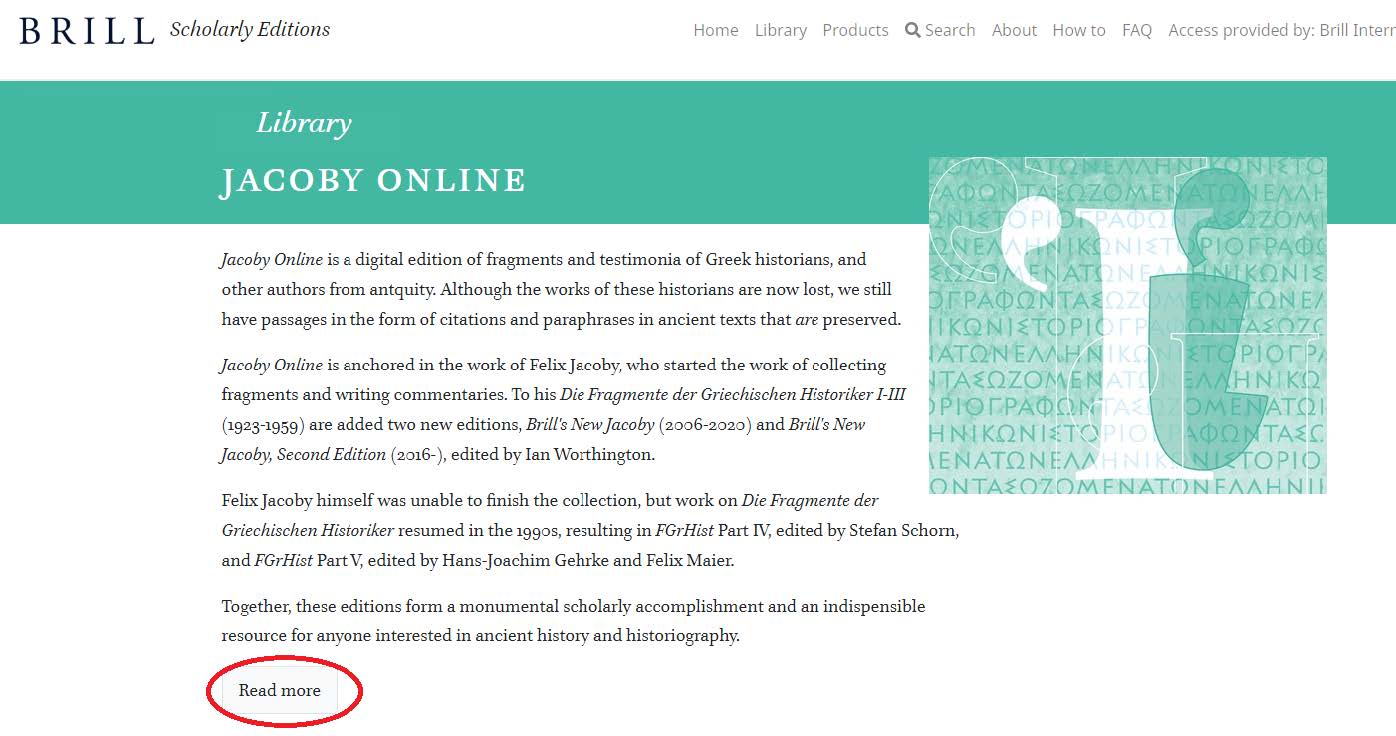 By clicking the 'Read More' button, you will enter the information pages. There you can find information about Felix Jacoby, the structure of Jacoby Online as a whole, and the different parts and editions within Jacoby Online: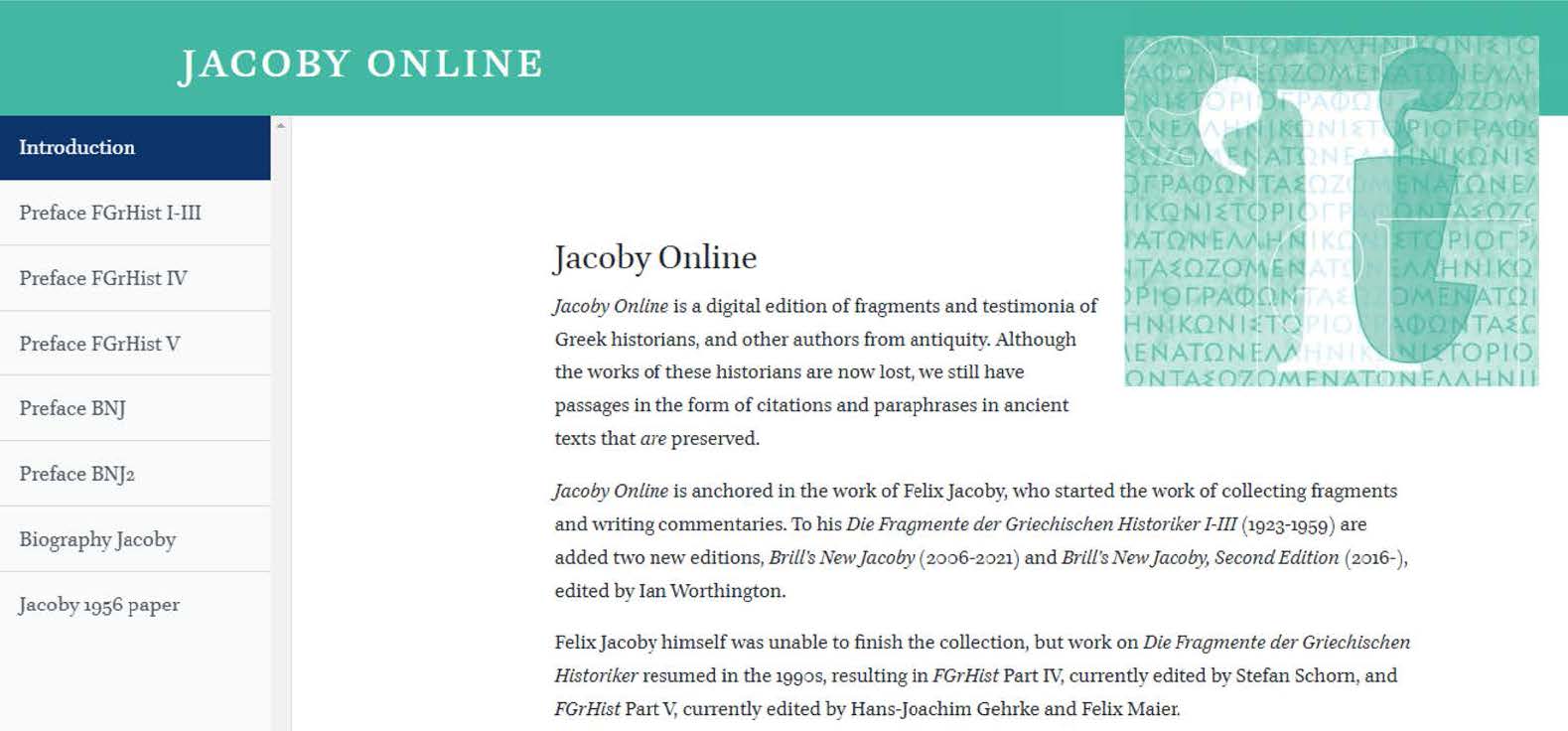 Searching in Jacoby Online
Upon entering the landing page, a filter with search fields will immediately open up: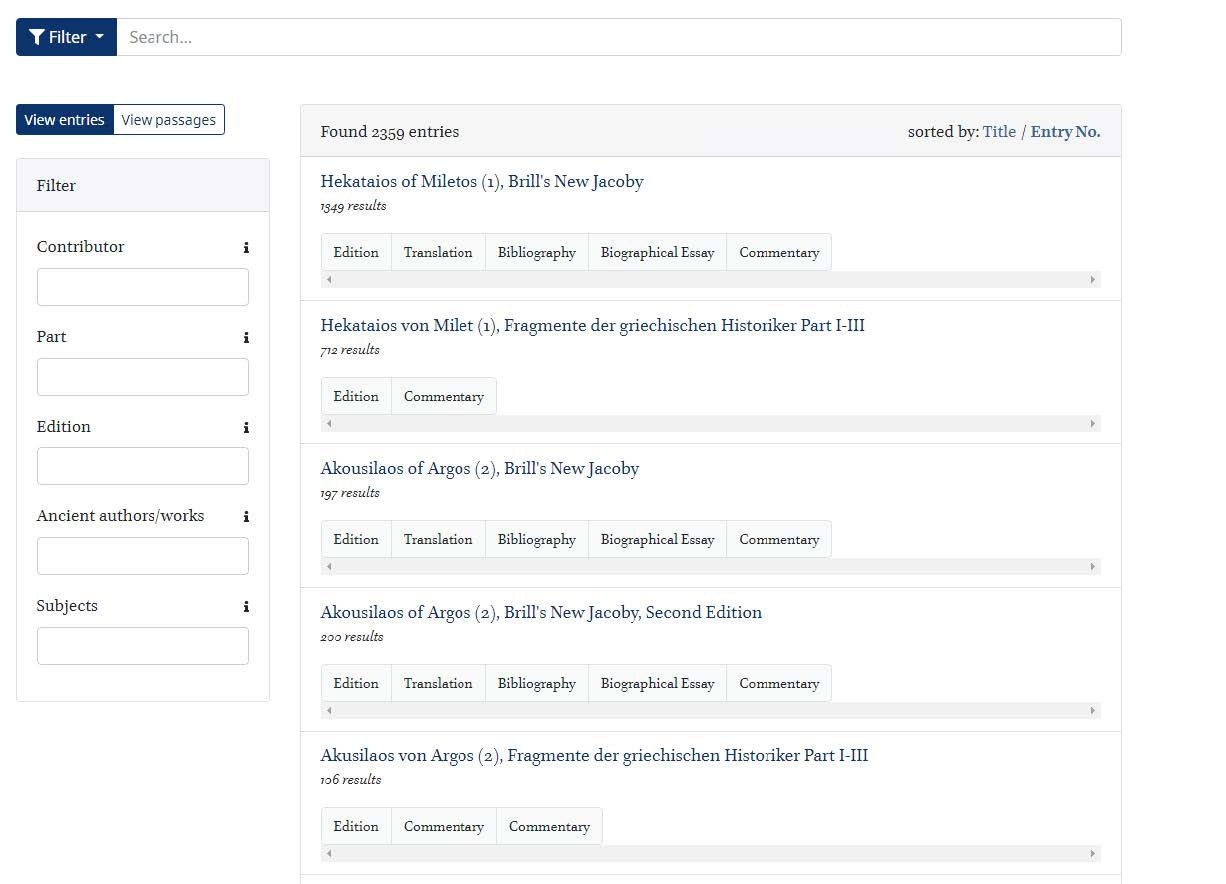 In the left pane, you can filter your search by contributor (authors of entries), parts, editions, ancient authors (historians), and subjects.
Background Information
Felix Jacoby divided those Greek historians whose works survived only in fragments into five sections or parts:
Part I: Genealogy and Mythography
Part II: Chronography (political-military history)
Part III: Horography and Ethnography
Part IV: Biography
Part V: Geography
Jacoby himself only completed Parts I, II, and III. Those sections are available as Die Fragmente der Griechischen Historiker (FGrHist) I-III.
Brill's New Jacoby is a completely revised, new edition of these original Jacoby sections.
Brill's New Jacoby – Second Edition is the second revised edition of Parts I, II, and III.
Both editions are edited by Ian Worthington.
Additionally, the Jacoby editors and Brill are working on creating Part IV and Part V – which Jacoby was never able to publish himself. FGrHist Part IV is edited by Stefan Schorn; FGrHist Part V by Hans-Joachim Gehrke and Felix K. Maier.
Reading in Jacoby Online
The default setting is that your search results are given in 'entries'. An entry gives all the fragments, testimonia, commentary, and bibliography about one Greek historian / Jacoby entry number, per edition. For instance, Akousilaos of Argos (number 2 in the Jacoby numbering) has three entries: one from the original Jacoby, one from Brill's New Jacoby, and one from Brill's New Jacoby – Second Edition: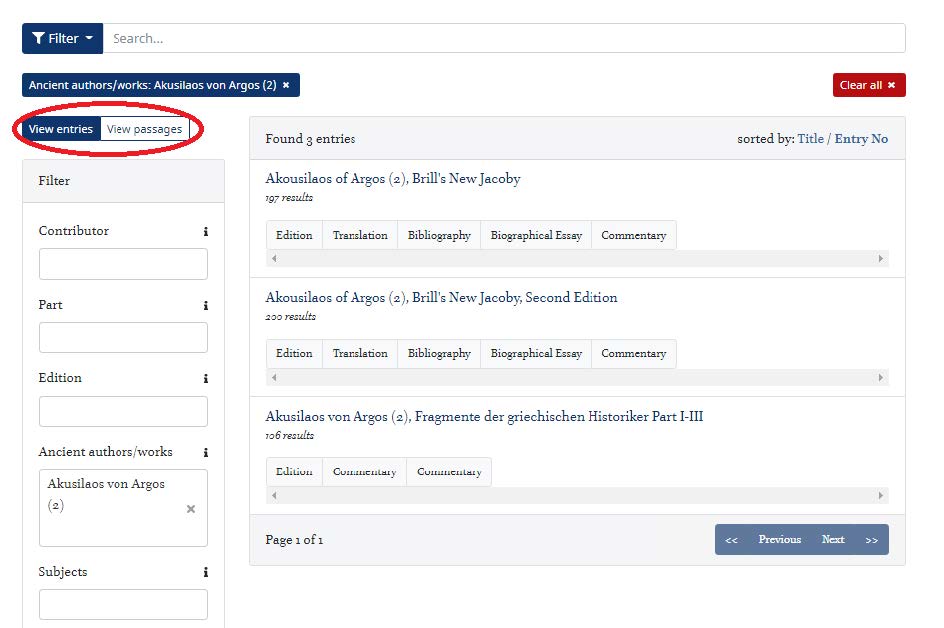 When you change to 'View Passages' instead of 'View Entries', you will see all the fragments, testimonia, commentaries etc. listed separately, in a much longer list.
If you would like to read a particular entry (e.g. Akousilaos of Argos in Brill's New Jacoby – Second Edition), you can choose one of the horizontal tabs that the entry offers:

Click on one of the tabs (Edition, Translation, Bibliography, Commentary, etc.) to enter the reader. Clicking on 'Edition' will take you to the fragments and testimonia that belong to this historian: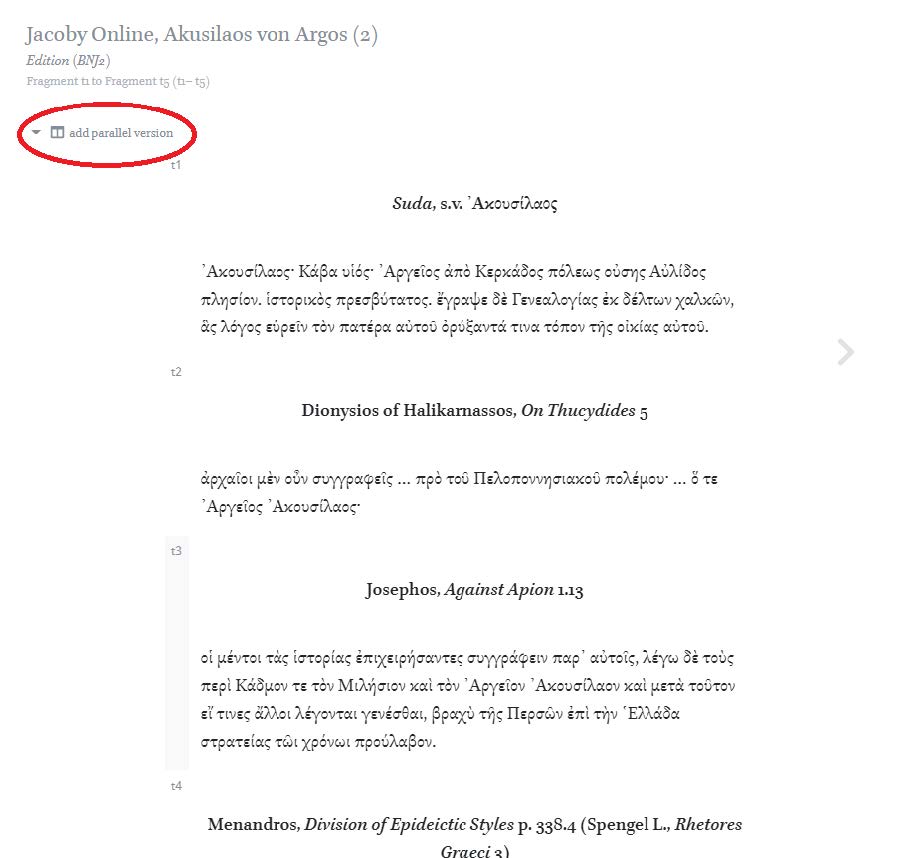 The button 'add parallel version' on the top left, will add the translation, commentary or other relevant material in a parallel column: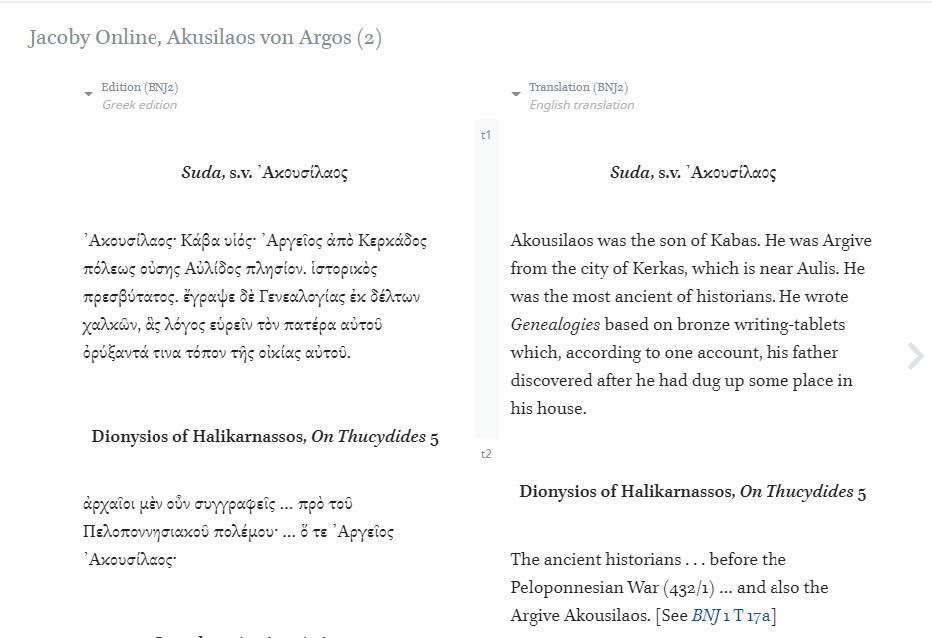 Tools in Jacoby Online
Brill's Scholarly Editions offer many convenient tools on the left and right pane of the screen: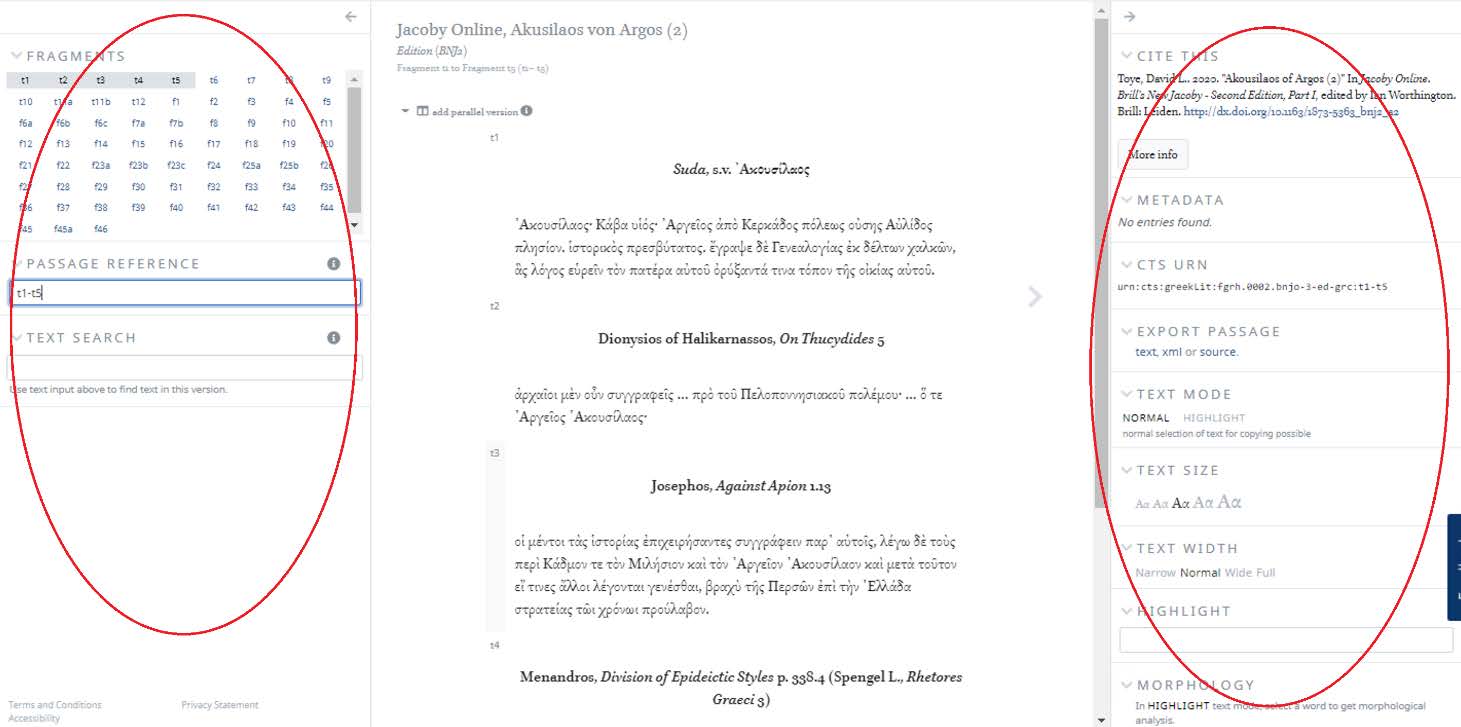 The left pane displays which fragments and testimonies are available (in the 'Fragments' menu) and which passages are currently displayed (Passage Reference). You can also do a text search within the texts that are selected (Text Search):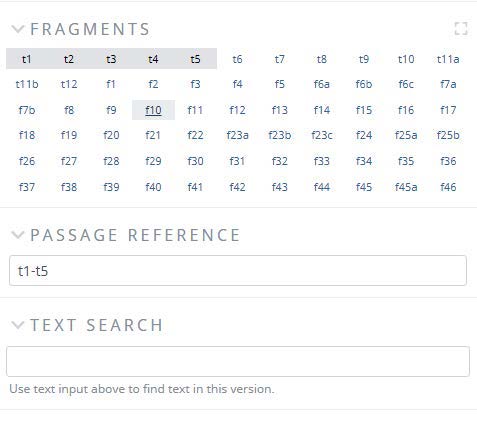 In the right pane you can see the citation, as well as the metadata of the sources. You can also export texts and use the morphology tool: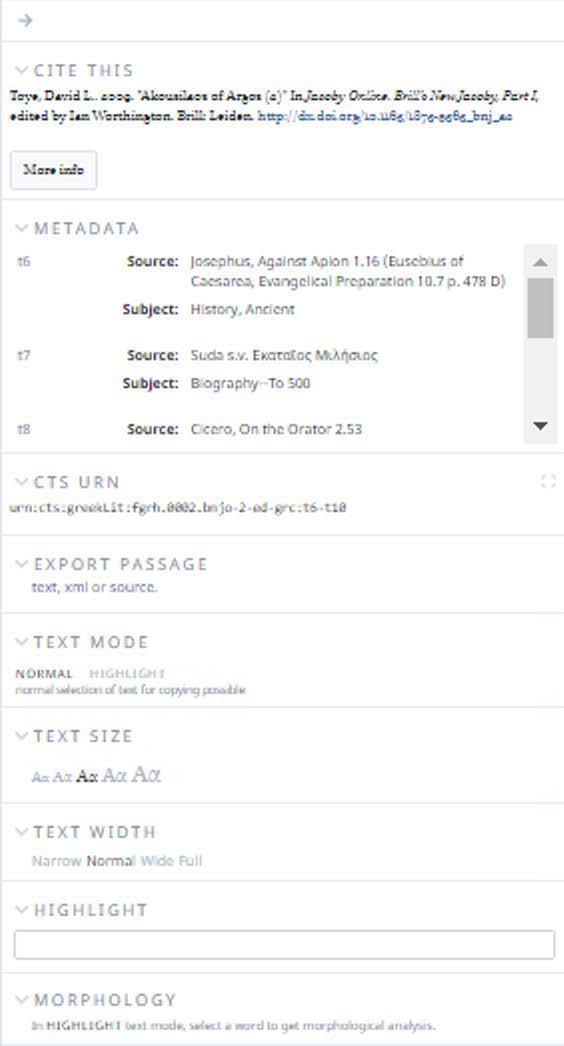 For more information about the options on Scholarly Editions and a general User Guide, please go to the How to section.